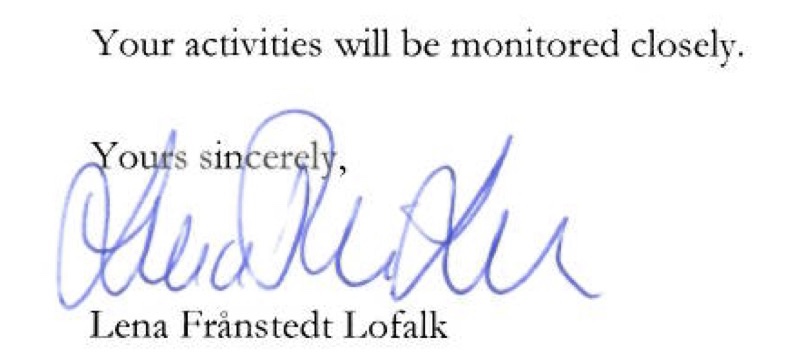 The indemnity claim BUMP is pursuing against law firm Wiggin LLP, Mutter Media, and Foretagsjuridik Nord Och Co Ab, now called KANTER Advokatbyrå, results from statements and revelations by solicitor Caroline Kean and Wiggin LLP in a letter of 7 February 2019 to BUMP and Derek Banner. Solicitor Caroline Kean and law firm Wiggin LL have revealed in their statements that they withheld evidentiary documents from London Court, misled the Claimant BUMP and the judge, and fraudulently obtained a strike out of BUMP's claim and a summary judgement in favour of their clients Endemol Shine / Banijay, Friday TV, and NBCUniversal. Similarly and also importantly, Caroline Kean and Wiggin LLP have also revealed in their statements that Swedish lawyers Caroline von Heidenstam and Lena Frånstedt Lofalk as well withheld the same evidentiary documents, misled the Claimant and the judge in Stockholm District Court and fraudulently obtained a court decision in favour of Defendant Friday TV. Solicitor Caroline Kean alleged in that letter that she and Wiggin LLP "put in court proceedings" in London High Court the documents which Swedish lawyers at Foretagsjuridik Nord Och Co and Legal counsel at Mutter Media downloaded from BUMP's website and "secured for use in evidence". However despite several requests by BUMP, Caroline Kean and Wiggin LLP have been unable to provide any evidence from London court documents to prove their statements. Caroline Kean and Wiggin LLP have also confirmed in the same letter the evidence of URLs, Internet Links, which BUMP and Derek Banner discovered from a server called Mutter Media which was used Friday TV and Metronome and Legal Counsel Eva-Lotta Almkvist. The discovered Internet links show that the two lawyers at Foretagsjuridik Nord Och Co and Legal Counsel at Mutter Media created agreements with BUMP with regard to BUMP's gameshow format "Minute Winner - You got Minute To Win It" and used those downloaded and secured documents as evidence and documentation for the created agreements between BUMP and Friday TV. They were conscious of Friday TV's violations and therefore were in the process of resolving the matter out of court, however they decided to withhold the created documents in an unfair and fraudulent tactic to force BUMP to file a claim to the Swedish District Court in Stockholm, and they used their influence and abused of their position to take advantage of BUMP and its founder Derek Banner. They never disclosed the created agreements to the court, and blindsided and misled the judge to issue a court decision in favour of Friday TV. It is a serious violation by lawyers and their law firms to conceal from the court key documents which are directly related to a claim. After BUMP's repeated requests to Caroline Kean and Wiggin LLP to submit the withheld documents, and after BUMP filed a formal complaint to Wiggin LLP's Senior Partner Charles Moore, Caroline Kean and Wiggin LLP submitted the indemnity claim against them to their insurance provider.
Friday TV and Metronome paid Swedish Choir Leader Caroline af Ugglas millions of Swedish krona in royalties on the basis of an oral idea of the television choir competition show "Clash of the choirs" on NBC, which Friday TV and NBC later sold to seventeen countries. Swedish lawyers at Foretagsjuridik Nordh Och Co Lena Frånstedt Lofalk and Caroline von Heidenstam never advised Friday TV and Metronome to start an abusive copyright dispute and to argue that "there is no copyright protection on a verbal idea" so Friday TV and Metronome would avoid to pay the millions of Swedish krona to the Swedish choir leader. The two Swedish lawyers therefore had no legal basis to discriminate against Derek Banner and his company and to advise Friday TV to start an abusive copyright dispute with regard to the written gameshow format Derek Banner and BUMP submitted to Friday TV so Friday TV would avoid to pay millions of dollars in royalties to Derek Banner and his company Banner Universal Motion Pictures / BUMP.  Friday TV, Endemol Shine, and NBCUniversal exploited BUMP's successful original gameshow format "Minute Winner - You got one minute to win it" in more than fifty countries. Rather than acting with fairness, honesty, and upholding their profession's codes of conduct and ethics, and rather than advising their clients to amicably resolve the dispute with BUMP, the two Swedish lawyers chose to discriminate and sent Derek Banner a letter and issued a direct threat to Derek Banner, "Your activities will be monitored closely". The two Swedish lawyers then persuaded Friday TV's co-founder Jock Millgårdh to issue a false written witness statement to the Swedish District court and to commit perjury, used their influence and personal relations, and they successfully got BUMP's claim against Friday TV dismissed. Afterwards they sent Derek Banner and BUMP an email with a settlement offer in which they proposed that "all parties pay their own legal fees BUMP and Derek Banner get no compensation for their clients' abuse and violations". Derek Banner and BUMP rejected the offer and rightly demanded a fair compensation. They sent people to monitor Derek Banner's activities and keep Derek Banner under surveillance, including when Derek Banner is on vacation with his wife and daughters, while is sitting in a restaurant or café with his family or with a friend, following Derek Banner when he is driving in traffic. All three Friday TV's founders and Legal Counsel at Mutter Media already resigned in protest from Friday TV and Metronome; their personal integrity and reputation were tarnished by the two lawyers' ill advice and abusive conduct, their successful career in the Swedish television industry was destroyed. Jock Millgårdh later died by suicide in early January 2019.
Swedish lawyer Lena Frånstedt Lofalk is Chief Auditor and advisor to His Majesty the King of Sweden, King Carl Gustaf XVI.

 She is co-founder of and partner at law firm  
Kanter Advokatbyrå, previously she was vice chairman of the board of the Swedish Bar Association, chairman of the Disciplinary Board and she has held lectures on 
BUMP filed in 2015 a formal complaint to the Swedish Bar Association against lawyer Lena Frånstedt Lofalk.