LUXURY TRAP™ and MINUTE TO WIN IT™ are two of Banner Universal Motion Pictures' most successful television formats. 
Luxury Trap is currently being aired with more than 80 seasons combined since 2006 and over 8000 episodes. 
After creating in 2003 the gameshow format "Minute Winner - You got one Minute To Win It", Derek Banner, BUMP founder and IP creator, created LUXURY TRAP in 2005 based on an original idea and Danish draft by his wife Anita L. Banner. Minute To Win It was aired by NBC since 2010 and has been distributed to over 50 countries and 70 territories. It was awarded the title of world's most sold studio based gameshow in 2011 and 2012. 
Luxury Trap is adapted by Banijay Nordics / Endemol Shine Group, including Metronome Productions in Denmark, Meter Film & Television in Sweden, Friday TV in Sweden, Rubicon TV in Norway, and Pluto TV, Viaplay Group, Nordic Entertainment Group (NENT Group, MTG Modern Times Group), Viaplay, Viafree, and TV3 Channels in Sweden, Denmark, Norway, airing currently for more than 80 seasons combined with over 8000 episodes.

License for the format is available for other countries and territories, contact Derek Banner to find out more.
https://sv.wikipedia.org/wiki/Lyxfällan 
https://da.wikipedia.org/wiki/Luksusfælden
https://no.wikipedia.org/wiki/Luksusfellen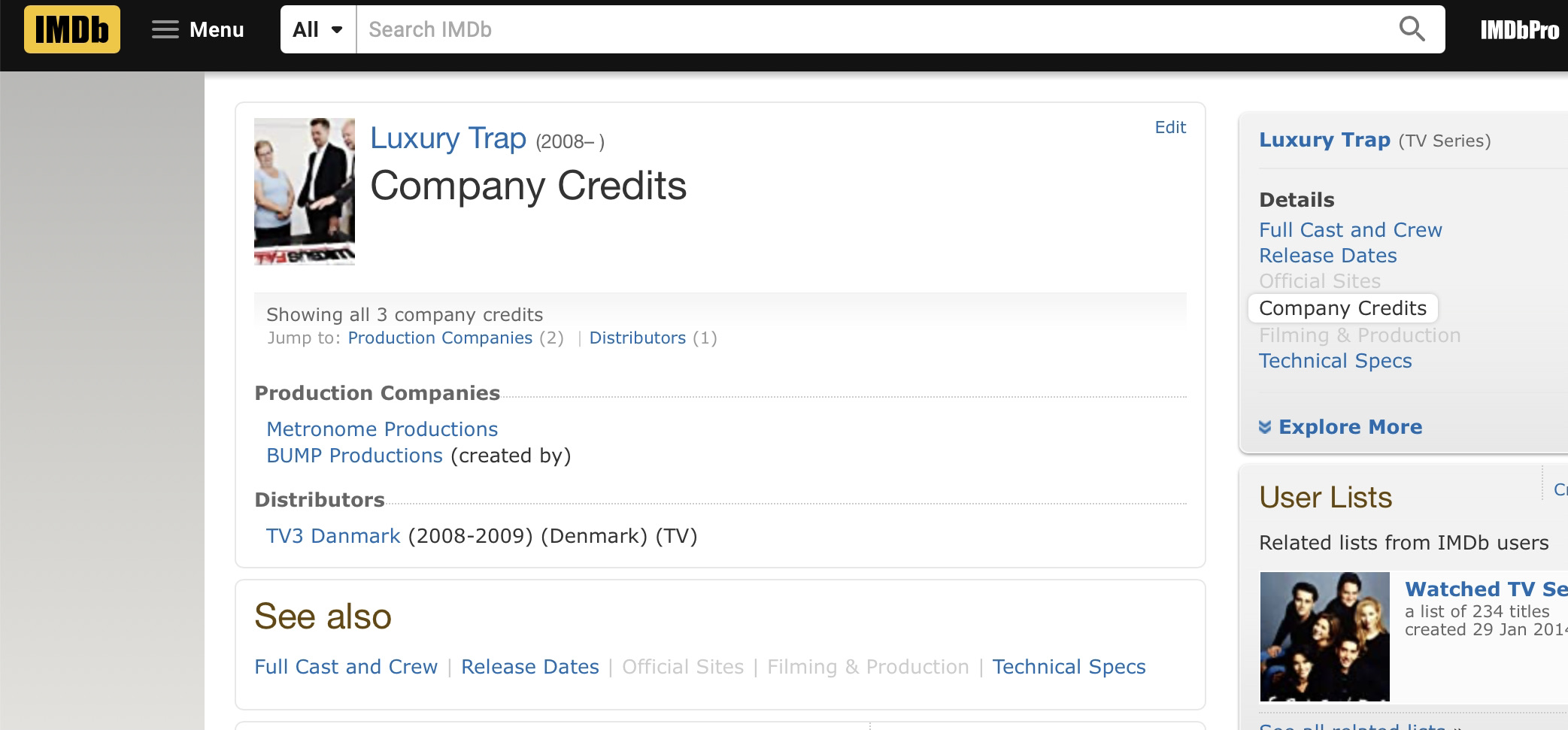 LUXURY TRAP original TV show format was submitted by an email of 15 February 2006 to Danish TV3's Head of programming Karoline Briand Spodsberg (currently COO Banijay Nordic), and by email of 18 February 2006 as well as during a pitch meeting with Metronome's Head of programming Jan Lagermand Lundme (currently Head of Entertainment at DR, Danmarks Radio), and further discussed with Jock Millgårdh, co-founder of Swedish format company Friday TV, a Metronome Group and Endemol Shine / Banijay company. After the pitch meeting Metronome and Jan Lagermand Lundme confirmed by email in 2006 that Friday TV is BUMP's contact regarding all the TV formats BUMP submitted as program proposals to the Metronome Group.
In April 2006 Friday TV, TV3, and Metronome decided to exploit the format and began development and pre-production; production started in May 2006, filming in August 2006, and the program was aired the first time on TV3 Sweden on November 1st, 2006 with the translated Swedish title "Lyxfällan" (Luxury Trap). In 2008 the program was aired on TV3 Denmark, Luksusfælden, and on TV3 Norway, Luksusfellen.

LIKE our LUXURY TRAP Facebook page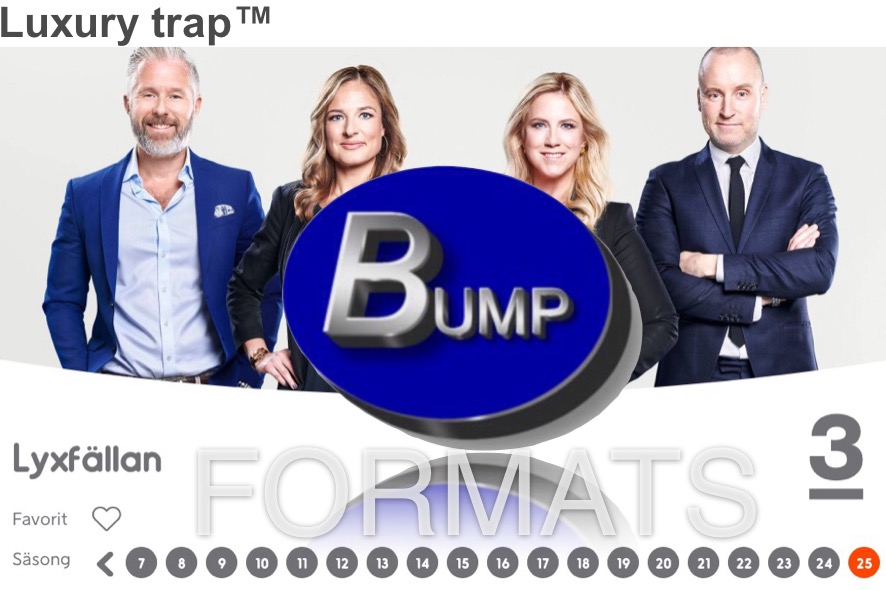 Luxury Trap has currently been aired for over 80 seasons combined in Sweden, Denmark, and Norway (for what is known of territories).
BACKGROUND
There was a time when Danes used to save up money so they could afford something new. It is no longer the case. Today we want it all in half the time - even young people have expensive furniture, designer clothes, cars and latest technology. In other words, Danes borrow money like never before, the debt on credit cards, consumer loans, overdrafts, etc skyrocketing. It may take a long time to settle climbing debt. In Luxury Trap selected participants have the opportunity to get rid of their debt in just one evening - and get some good advice along the way so they do not wind up in a similar situation. The program is aimed primarily at an audience between 18 and 40 years old, who are still in their "establishment phase" and therefore tempted to borrow money for greater and lesser consumption.
Key Details from the original draft:
"Debt due to over-spending", "Participant tells the host how much they owe and why", "Promissory note (power of attorney)", "Blackboard with amounts and categories", "Material things", "Earned money is used to repay the debt "," Financial Advisors ", "Promissory Note or Power of attorney torn to pieces " ...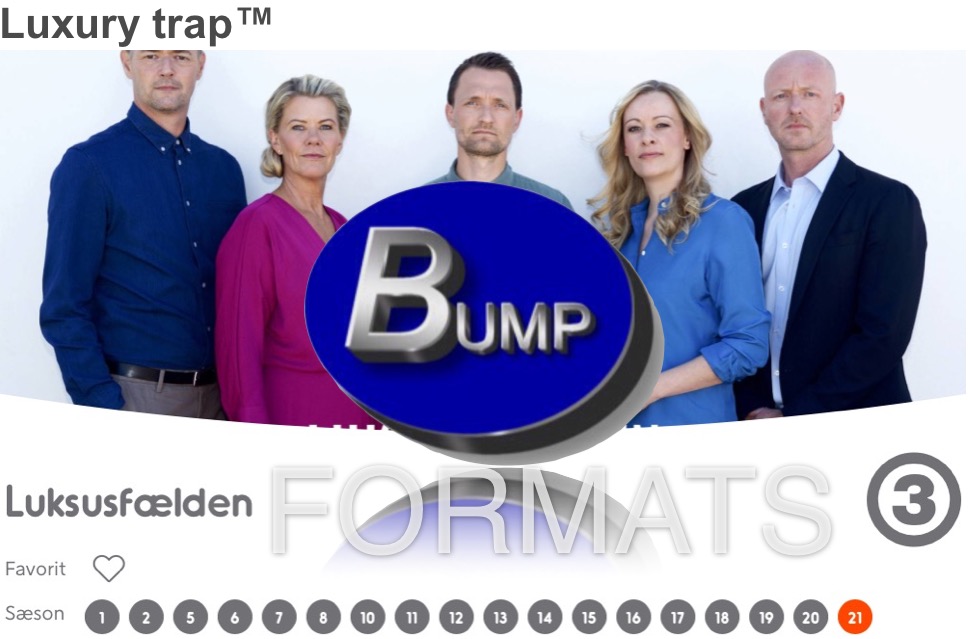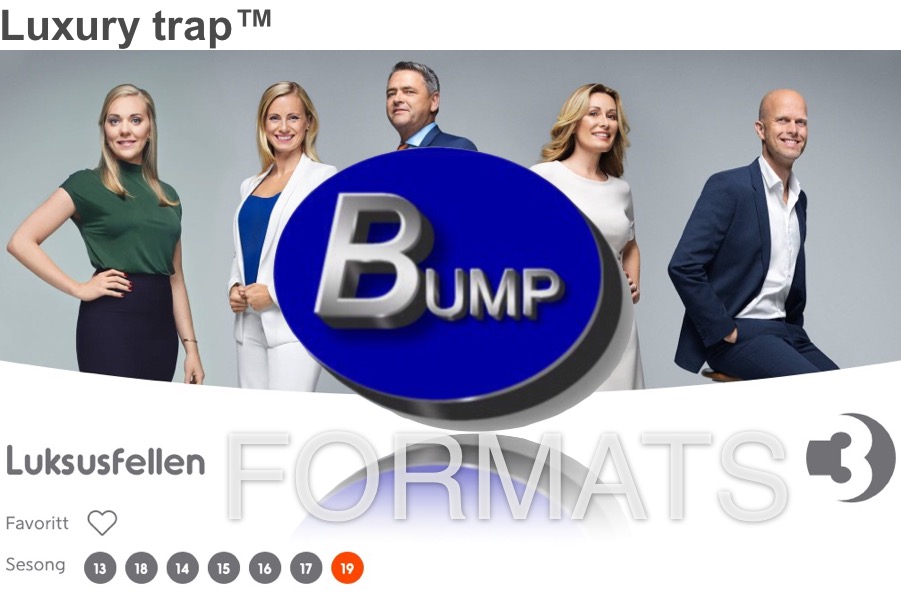 A celebrity version of Swedish adaptation of BUMP´s Luxury Trap, "Lyxfällan", aired on 25 August 2020.
Lyxfällan host and financial expert Magnus Hedberg takes care of Swedish celebrities' personal finances in the new Luxury Trap adaptation, called "Dream Trap", "Drömfällan". The program was broadcast in four episodes during its first season on Viaplay, Viafree, and TV3 Sweden.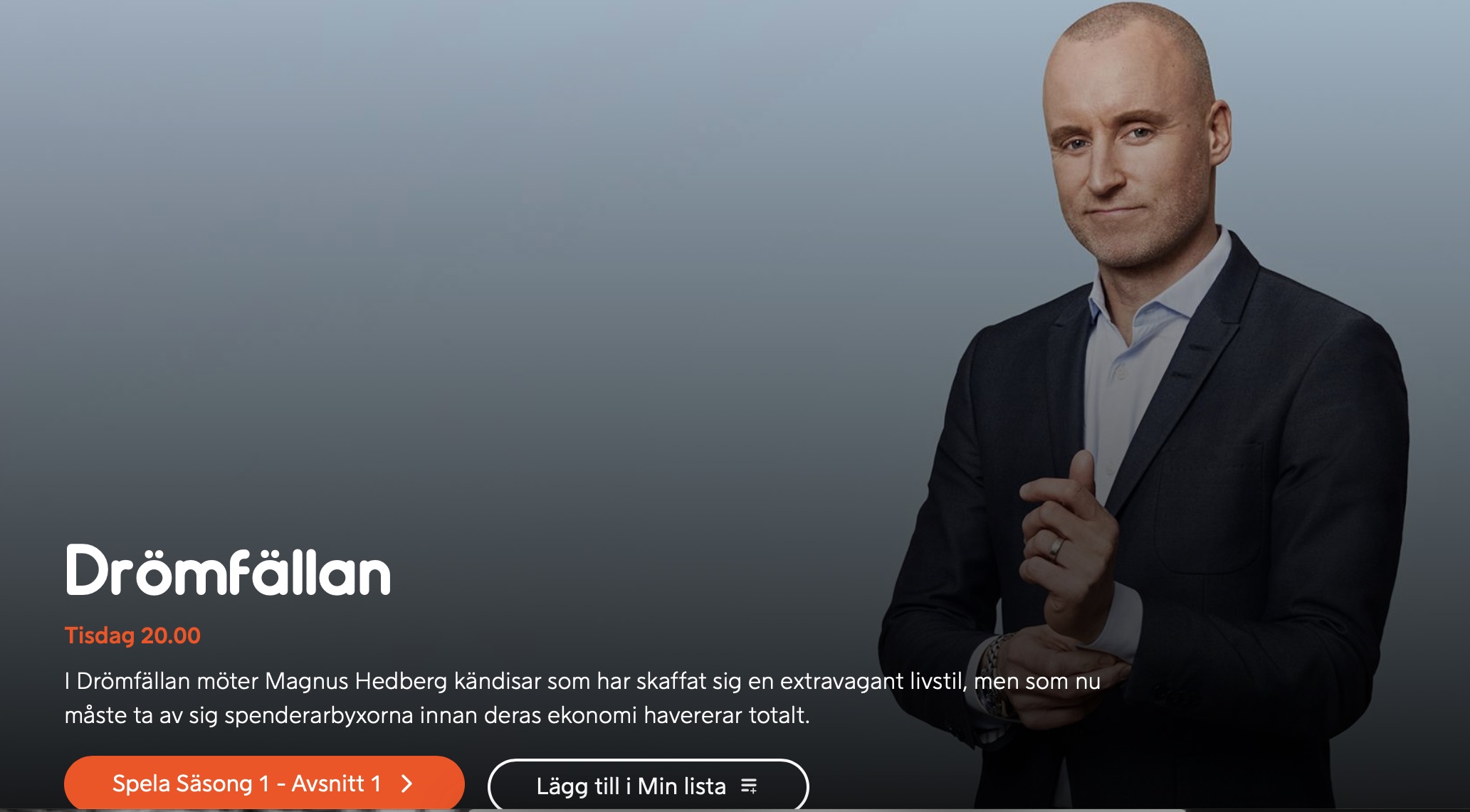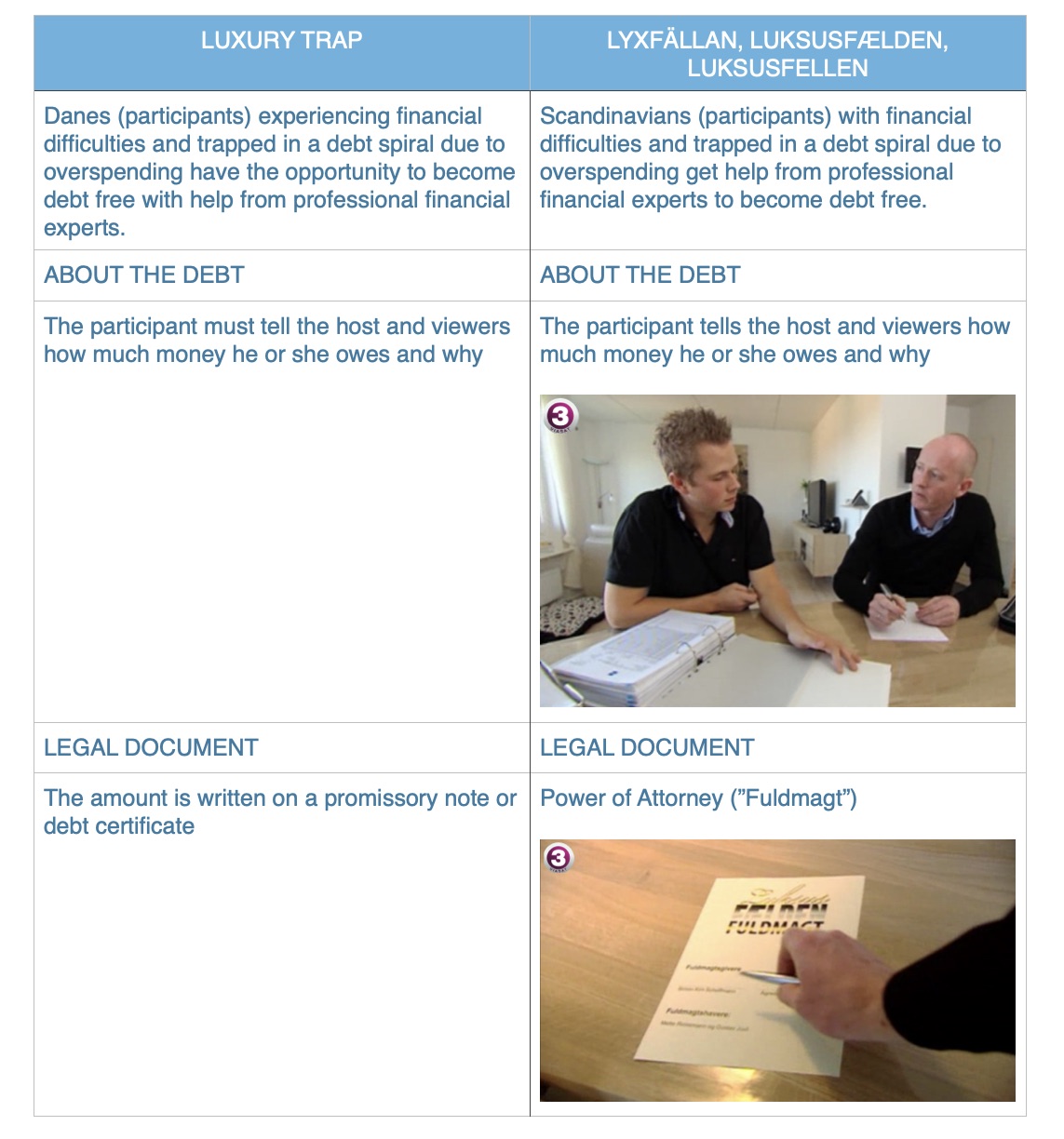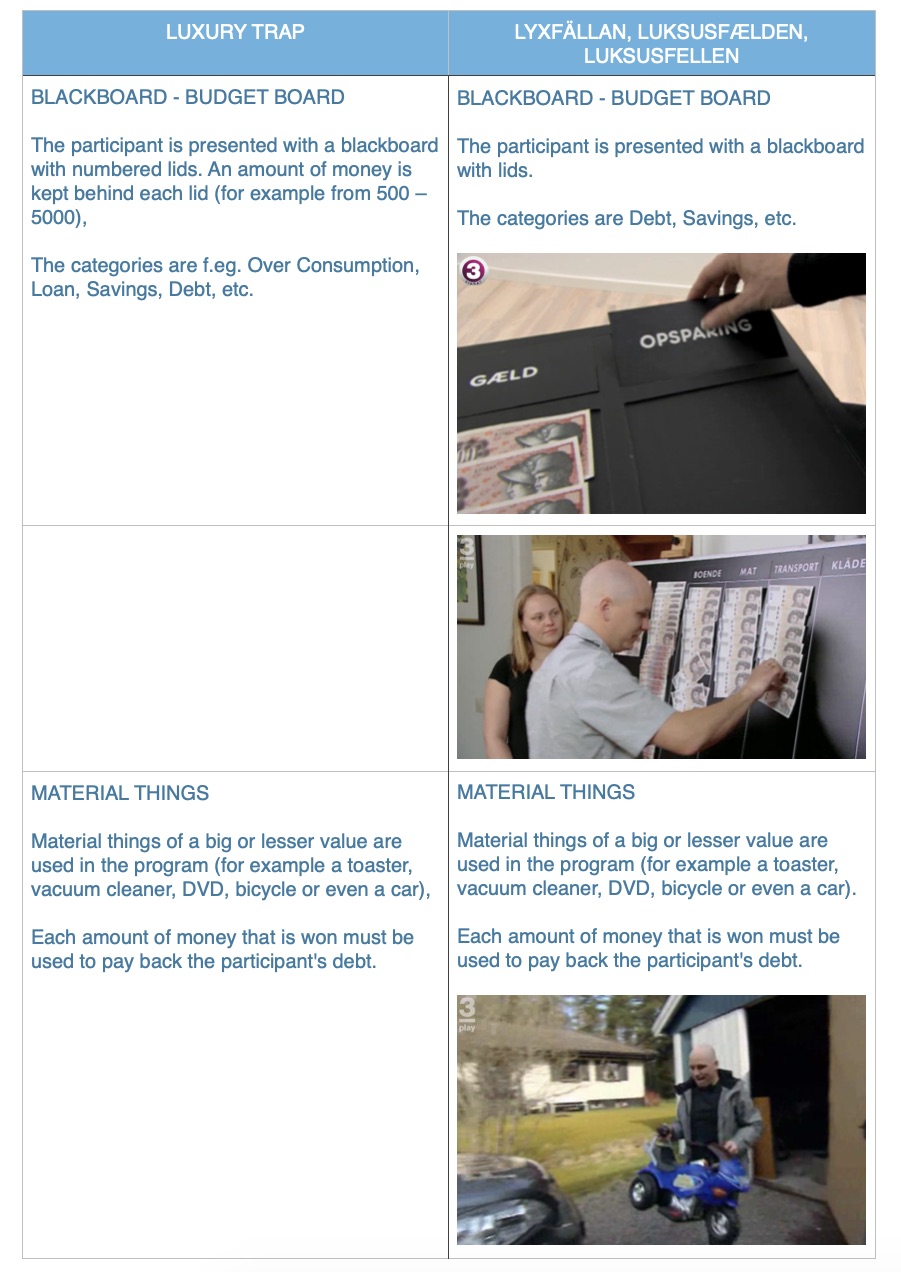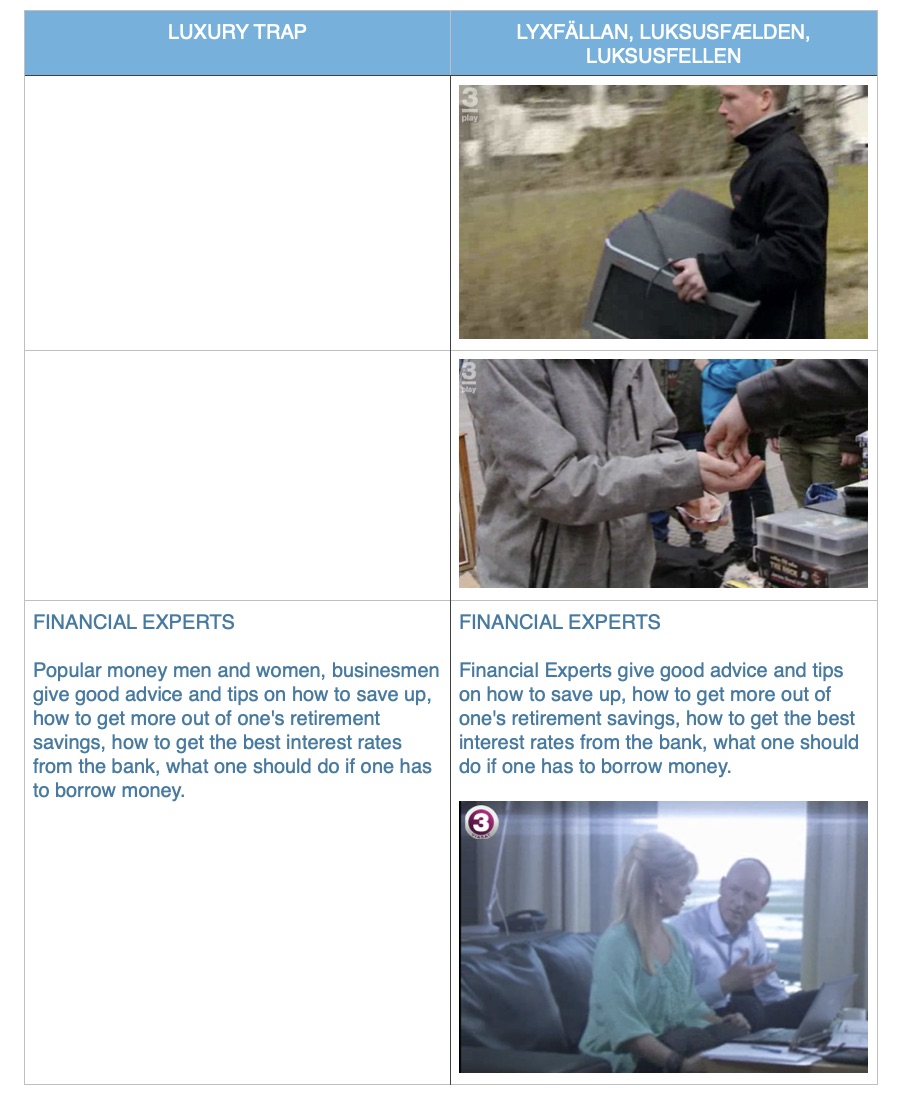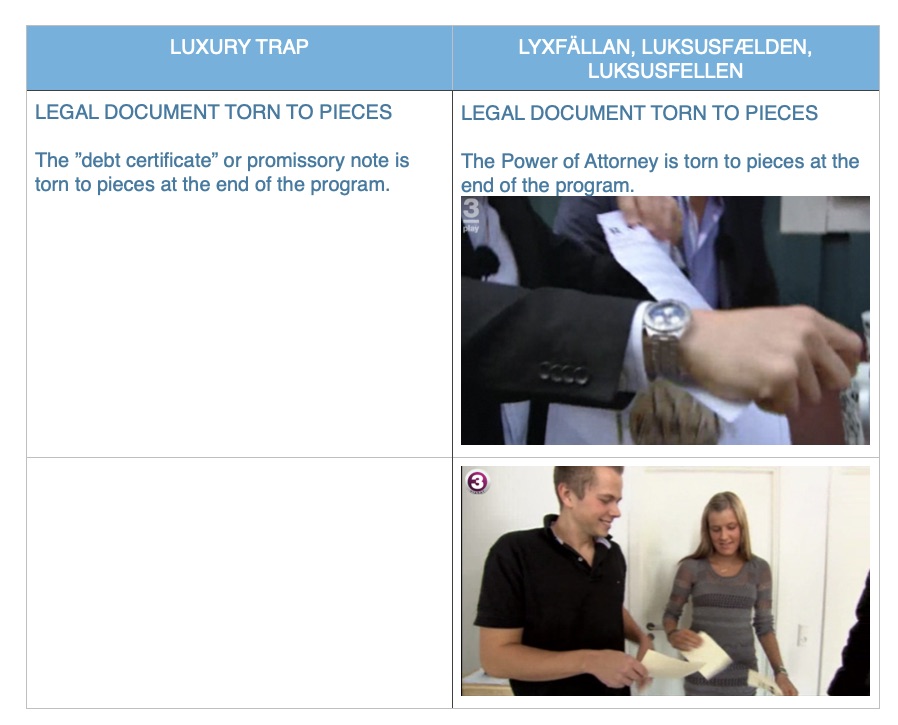 BUMP SCRIPTED - FEATURE FILMS
STUPID SPIES™, Inspired by True Events.  
A multinational company has stolen a huge amount of money from a black businessman. Rather than paying him the money, the company hires lawyers who use their personal contacts within the secret service to spy and conduct surveillance on the black businessman, they hope to find dirt on him or catch him in a gaffe which they could later use against him in court so the multinational company would be vindicated and avoid to pay the millions of dollars they owe the black businessman. But they make plenty of stupid mistakes themselves which reveal their scheme, a witness and ex-employee is found dead; the black businessman is able to expose them one by one, from CEOs to top secret spy and corrupt lawyers and judges. The case makes headlines and becomes one of the biggest scandals in the country and within the business world. 
©BUMP 2023. All rights reserved.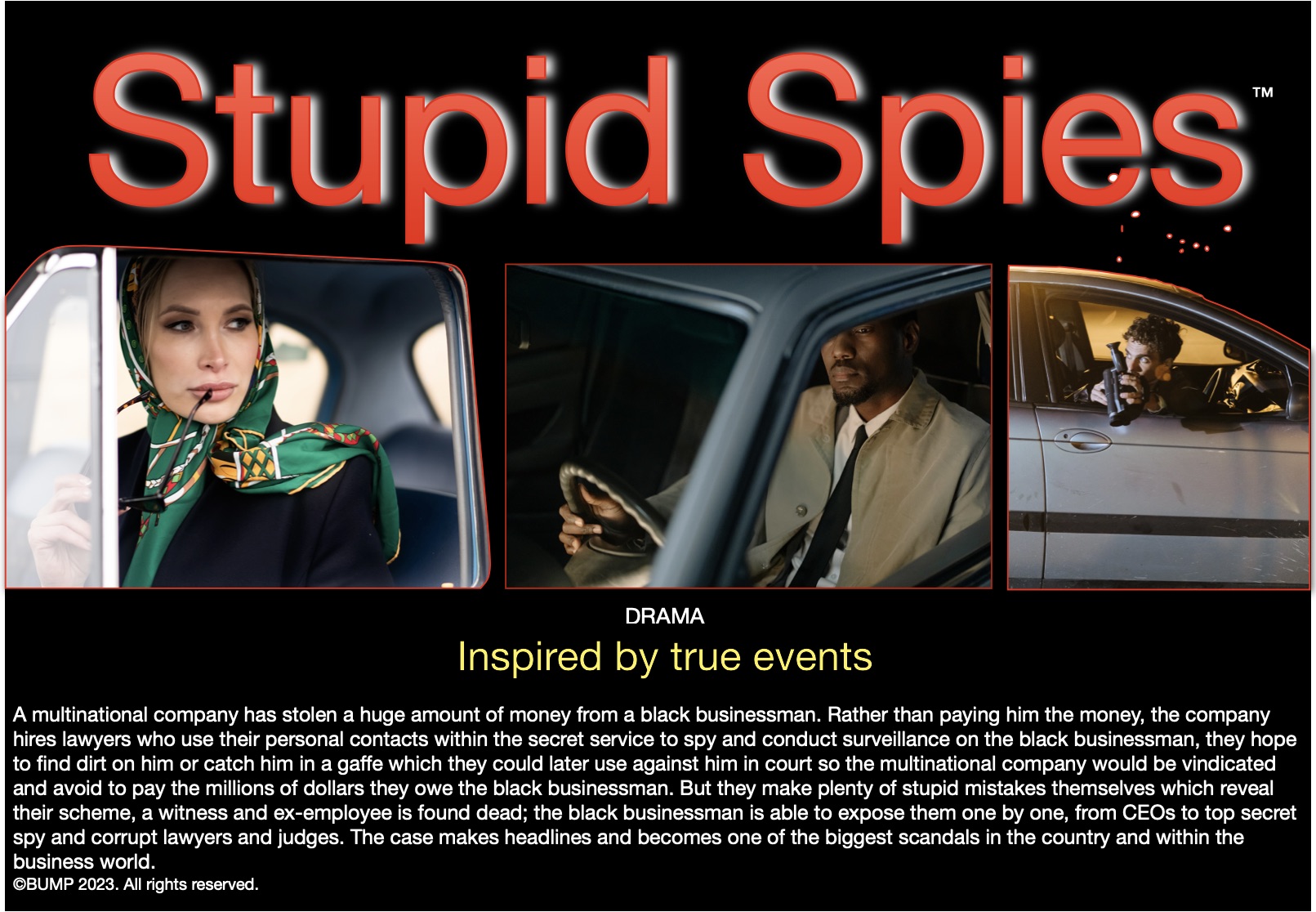 ---