Endemol Shine Group / Banijay, including Metronome Productions in Denmark, Meter Film & Television in Sweden, Rubicon TV in Norway, and Nordic Entertainment Group (NENT Group), Viaplay, Viafree, and TV3 Channels in Sweden, Denmark, Norway, have yet to pay BUMP's issued invoices for unpaid license fees and royalties for their exploitation of BUMP's Luxury Trap. 
LIKE or FOLLOW OUR OFFICIAL LUXURY TRAP PAGE 
https://da.wikipedia.org/wiki/Luksusfælden
https://sv.wikipedia.org/wiki/Lyxfällan 
https://no.wikipedia.org/wiki/Luksusfellen
The luxury trap, LUXURY TRAP, was created since 2005 by IP creator and BUMP founder Derek Banner, based on an original idea and Danish draft by Anita L. Banner.
The program was presented in February 2006 as a draft for further development to TV3's then Head of programming Karoline Spodsberg, and Metronome's then Head of programming Jan Lagermand Lundme, and further discussed with Jock Millgårdh, co-founder of the Metronome Group and Endemol Shine's Swedish TV format development company Friday TV Ab.
In April 2006, TV3, Friday TV, and Metronome Group decided to exploit the program proposal and began the development work and pre-production, production started in May 2006, filming in August 2006, and the program was aired the first time on Swedish TV3 on November 1, 2006, entitled in Swedish Lyxfällan. In 2008 the program was aired on TV3 Denmark, Luksusælden, and on TV3 Norway, Luksusfellen.
Luxury Trap has currently been aired for more than twenty-five seasons in Sweden, and more than twenty seasons in Denmark and Norway.

BACKGROUND
There was a time when Danes used to save up money so they could afford something new. This is no longer the case. Today we want it all in half the time - and even young people have expensive furniture, designer clothes, cars and latest technology. In other words, Danes borrow money like never before, the debt on credit cards, consumer loans, overdrafts, etc skyrocketing. It may take a long time to settle climbing debt. In Luxury Trap selected participants have the opportunity to get rid of their debt in just one evening - and get some good advice along the way so they do not end up in a similar situation. The program is aimed primarily at an audience between 18 and 40 years old, who are still in their "establishment phase" and therefore tempted to borrow for greater and lesser consumption.
Key Details from the original draft:
"Debt due to over-spending", "Participant tells the host how much they owe and why", "Promissory note (power of attorney)", "Blackboard with amounts and categories", "Material things", "Earned money is used to repay the debt "," Financial Advisors ", "Promissory Note or Power of attorney torn to pieces " ...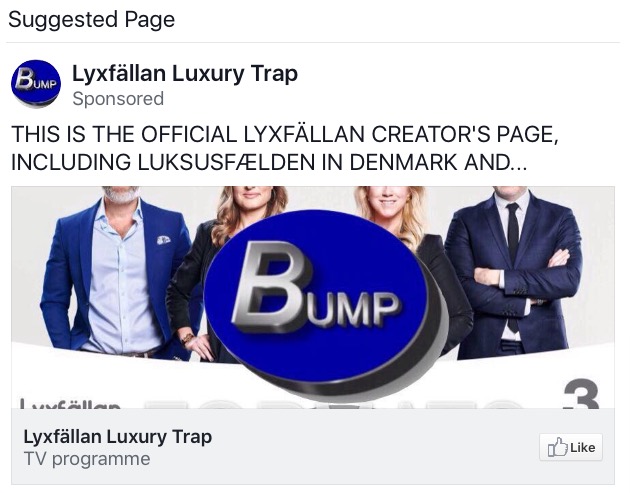 It is with great pride that we announce the launch of our OFFICIAL LYXFÄLLAN CREATOR'S PAGE on Facebook, which will cover and provide information about the TV program which has become Scandinavian classic over 25 seasons, including LUKSUSFÆLDEN in Denmark and LUKSUSFELLEN in Norway.
We hereby invite you to Like and Follow our page to get new updates as well as information about the TV format's creator's new and ongoing projects.
https://www.facebook.com/189523582002604/posts/189561215332174/