CONTACT DEREK BANNER IF YOU ARE INTERESTED IN THIS FORMAT OR ANY OF OUR TITLES FOR YOUR TERRITORY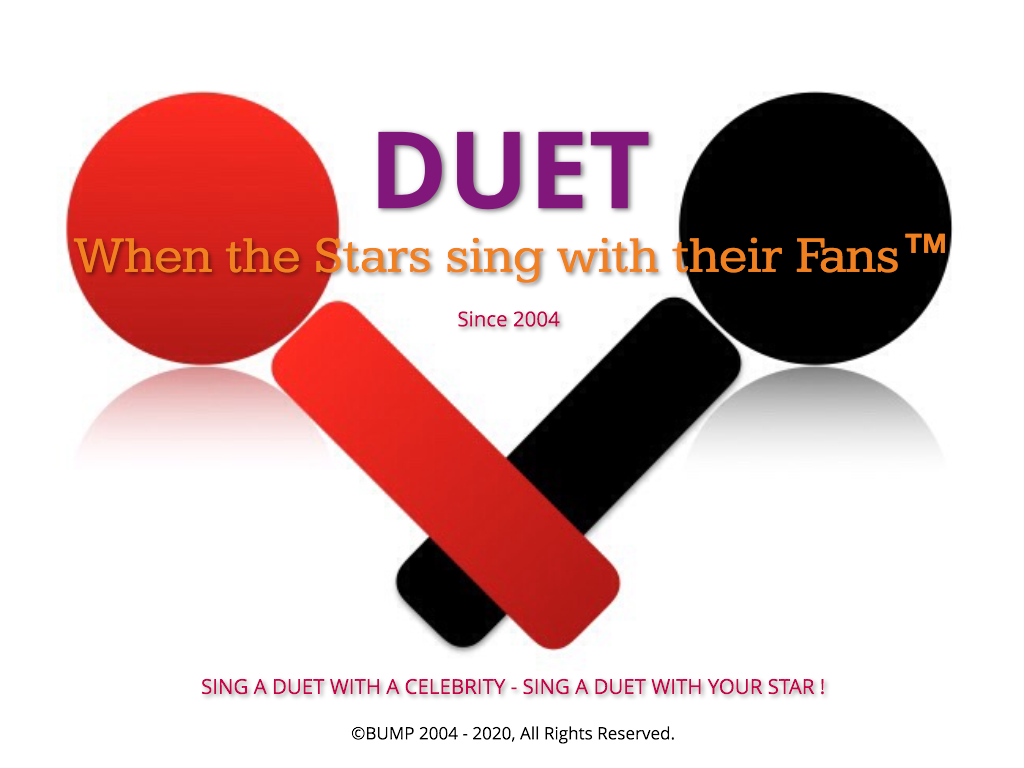 WHEN THE STARS SING WITH THEIR FANS
SING A DUET WITH A CELEBRITY - SING A DUET WITH YOUR STAR !
A CELEBRITY SINGS A DUET WITH A NON-CELEBRITY
Not to be confused with "Celebrity Duets" where two celebrities sing a duet together
The TV program DUET - "When the Stars sing with their fans, Sing duet with a celebrity, Sing duet with your star!" - was created by Derek Banner and BUMP Productions since 2004, presented in 2006 to Metronome Productions in Denmark (Endemol Shine Nordics) (Jan Lagermand Lundme - Head of programming). It was produced by Jan Lagermand Lundme, Head of Entertainment at Danmarks Radio, and Per Zachariassen and Henrik Hancke Nielsen of BLU, and aired as SKJULTE STJERNE / HIDDEN STAR on Danish DR1.
PLOT SUMMARY - Synopsis
A celebrity and a fan or an amateur singer, or two non-celebrities, sing duets together and compete on stage against other "celebrity-fan" duos or "two non-celebrity candidates".
Each celebrity teams up with a fan/amateur candidate,
They choose a popular song,
They rehearse each week,
Set up a choreography,
Choose costumes,
and perform on national television before a live studio audience and before the viewers.
SELECTION
Each Star selects his/her own candidate to sing duet with.
The selection is conducted as a surprise by the Star to the candidate, arranged by the production in connivance with the candidate's family member(s), friend(s), colleague(s) who have secretly applied for their candidate to participate in the program …
Candidates have to have skills and passion for music and singing.
SONG CATEGORY
The categories of the songs span from rock, r&b, pop, etc...
Each duo decides on a song category of their choice, and/or the production will choose the category for each duo.
VIEWERS DECIDE
Viewers across the country will vote by phone, text message, Social Media "Like" or "Unlike", etc and decide on the best duet, and the best and most skillful singing fan/candidate.

WINNING PRIZE
The winning duo wins an amount of money that they can share between them or donate to charity, and/or the singing fan/candidate wins a record deal or singing contract with a major music production company.