FORFALDNE ROYALTYGEBYRER - BANIJAY NORDICS, METRONOME, VIAPLAY GROUP, TV3 SVERIGE, TV3 DANMARK, TV3 NORGE
Mere end 80 sæsoner med over 8000 afsnit.

LUKSUSFÆLDEN OG MINUTE TO WIN IT er to af Banner Universal Motion Pictures' mest succesrige tv-formater.
Efter at han skabte gameshow-formatet "MINUTE WINNER - You got one Minute To Win It" i 2003, skabte BUMP-grundlæggeren og tv-formatskaberen Derek Banner Luxury Trap i 2005, baseret på en original idé og dansk udkast af hans kone Anita Banner.
Minute To Win It er blevet solgt og distribueret til 50 lande og 70 territorier, sendt første gang på NBC i USA i 2010, verdens mest solgte gameshow i 2011 og 2012, Danmarks mest succesfulde gameshow nogensinde.

Luxury Trap TV formatet blev adapteret af Metronome Group siden 2006, Banijay Nordic and Endemol Shine Group herunder Metronome Productions i Danmark, Meter Film & Television i Sverige, Friday TV i Sverige, Rubicon TV i Norge og Pluto TV, Viaplay Group / Nordic Entertainment Group (NENT Group), Viaplay, Viafree og TV3-kanaler i Sverige, Danmark, og Norge, udsendt i over 80 sæsoner med over 8000 afsnit.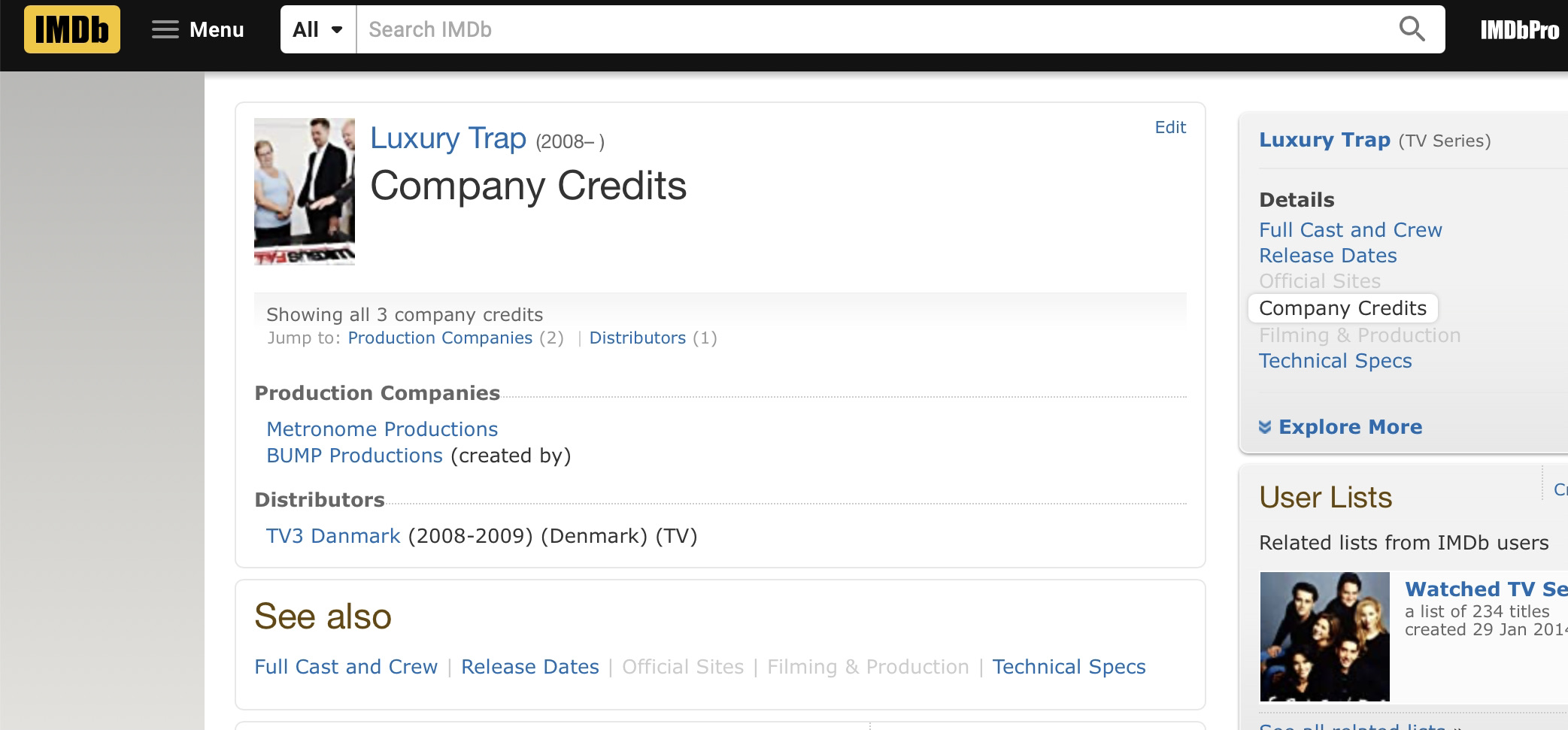 Programmet blev præsenteret i februar 2006 som et udkast for videreudvikling for TV3s daværende programchef Karoline Briand Spodsberg og Metronomes daværende programchef Jan Lagermand Lundme (inklusive den engelske version Luxury Trap, som blev præsenteret under et pitchmøde med Metronome og Jan Lagermand Lundme), og diskuteret med Jock Millgårdh, udviklingschef og medstifter af svensk Metronomes TV-formatudviklingsselskab Friday TV Ab.  
https://www.imdb.com/title/tt1515457/companycredits?ref_=ttfc_ql_4
https://da.wikipedia.org/wiki/Luksusfælden
Efter pitchmødet bekræftede Metronome og Jan Lagermand Lundme via e-mail, at det er svensk Friday TV der er BUMPs kontakt vedrørende alle de TV-formater, som BUMP indsendte som programforslag til Metronomegruppen.
I april 2006 besluttede Friday TV, TV3, og Metronomegruppen at udnytte Luxury Trap programforslaget og begyndte videreudviklingsarbejde og præ-produktion, produktionen i maj 2006, indspilningen i august 2006, og programmet blev vist første gang på svensk TV3 den 1. november 2006 med den svenske oversat title Lyxfällan. 
https://da.wikipedia.org/wiki/Luksusfælden
https://sv.wikipedia.org/wiki/Lyxfällan 
https://no.wikipedia.org/wiki/Luksusfellen

BAGGRUND
Der var en gang en tid, hvor danskerne "lagde skilling på skilling" og sparede op for at få råd til noget nyt. Sådan er det ikke mere. I dag vil vi have det hele på den halve tid - og selv helt unge mennesker har dyre møbler, designertøj, biler og nyeste teknologi. Danskerne låner med andre ord penge som aldrig før, og gælden på kontokort, forbrugslån, kassekreditter mv stiger og stiger. Det kan tage lang tid at afvikle klatgælden, men med programmet "KØR MED KLATTEN" har udvalgte deltagere mulighed for at få det overstået på bare en aften - hvis de er dygtige - og tilmed få et par gode råd med på vejen, så de ikke havner i lignende situation. Programmet henvender sig primært til et publikum på mellem 18 og 40 år, som stadig er i "etableringsfasen" og derved fristet til at låne til større og mindre forbrug."
Nøgledetaljer fra det originale udkast:
"Gæld som følge af overforbrug", "Deltageren fortæller hvormeget han/hun skylder væk og hvorfor", "Gældsbevis (fuldmagt)", "Tavle med beløb og kategorier", "Materielle ting", "Optjente penge bruges til at betale gælden tilbage", "Økonomiske rådgivere", "Gældsbevis rives i stykke" ...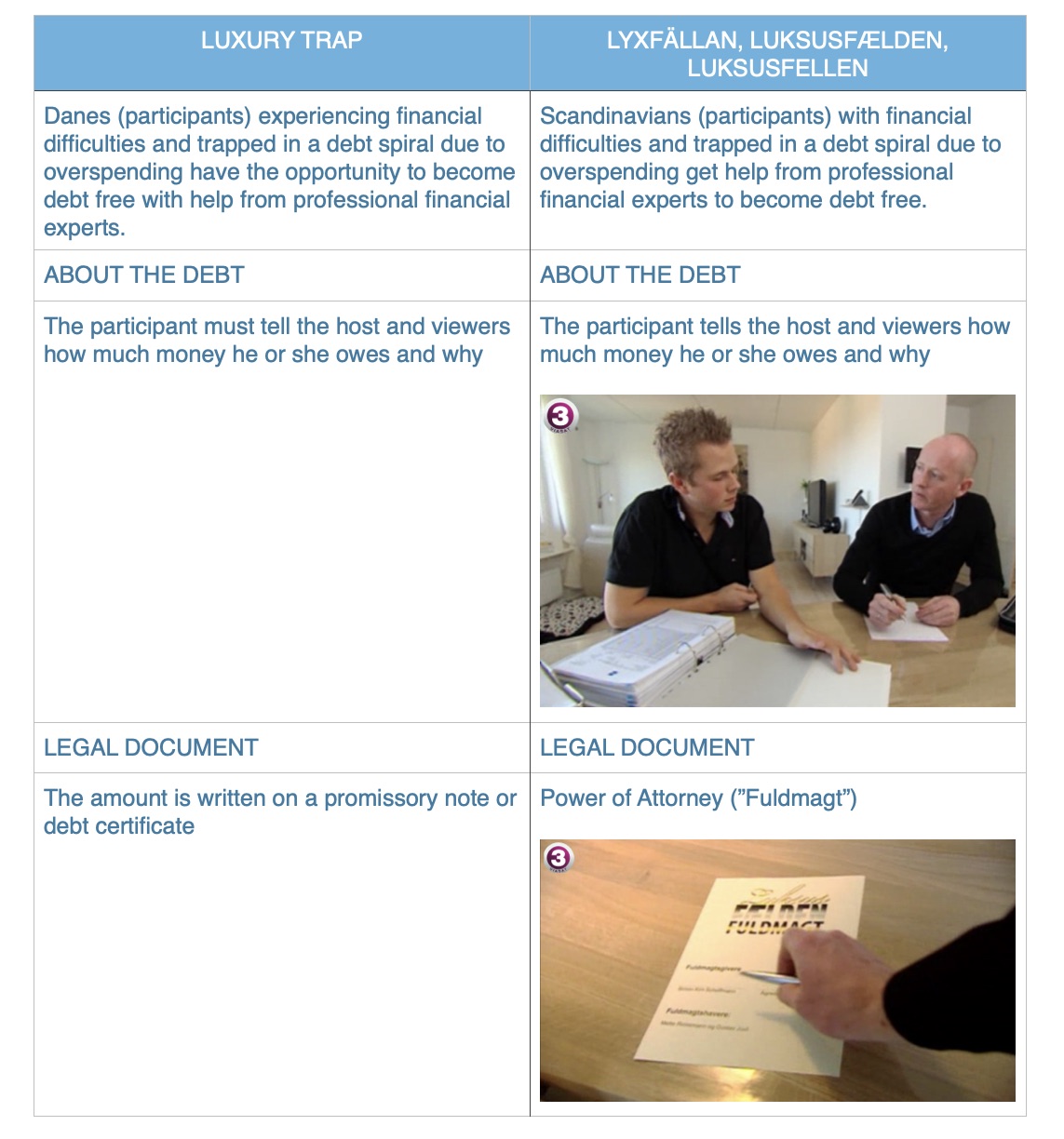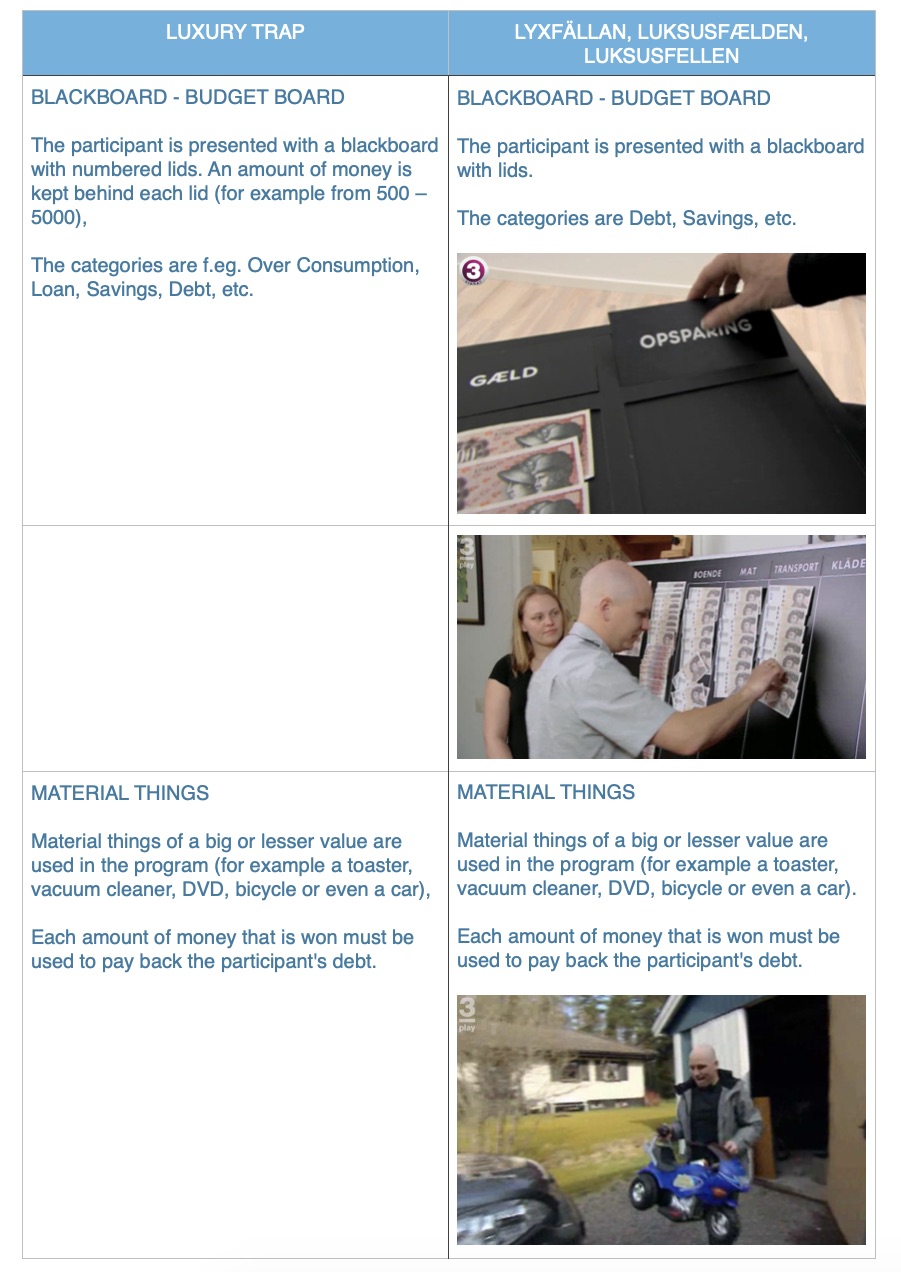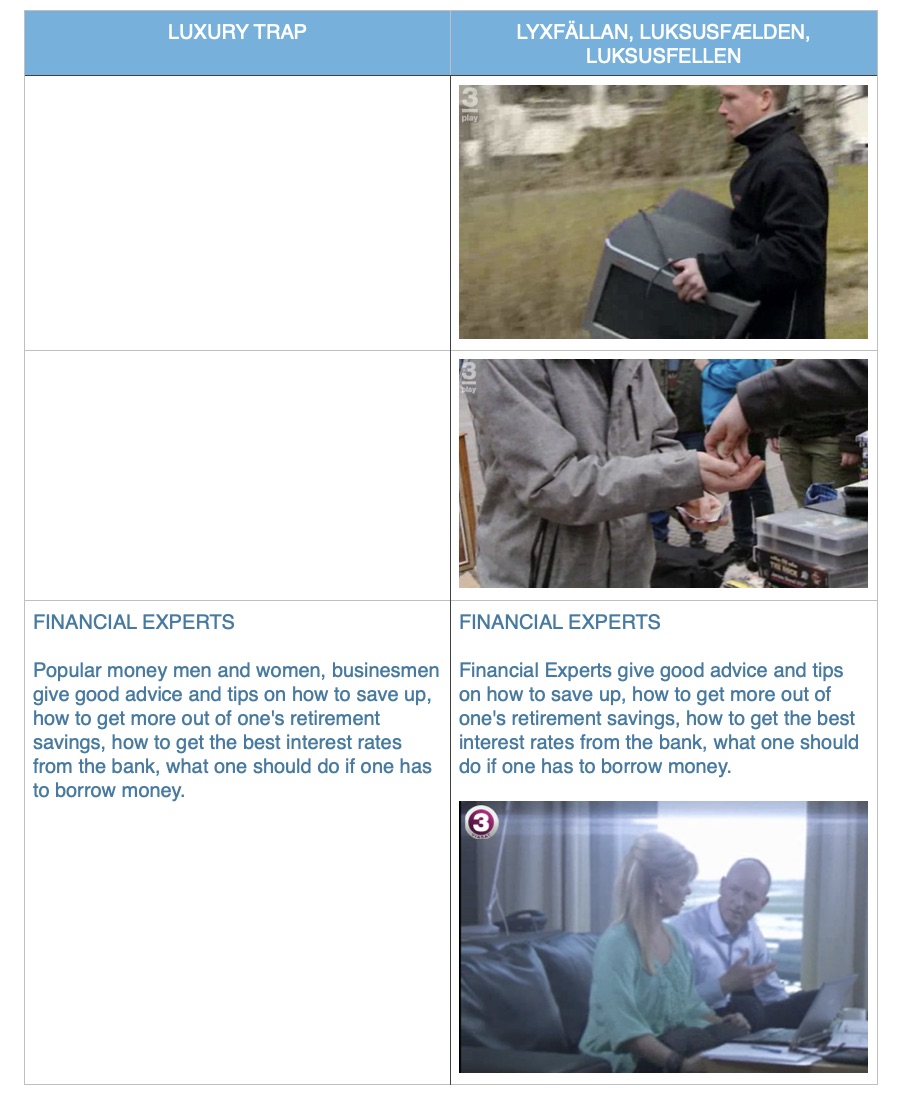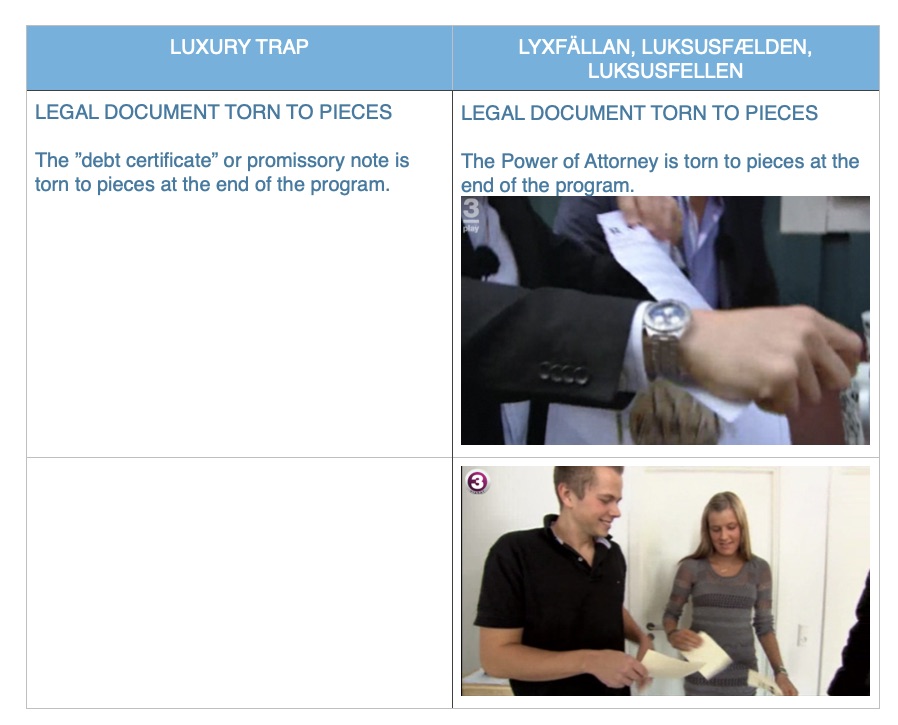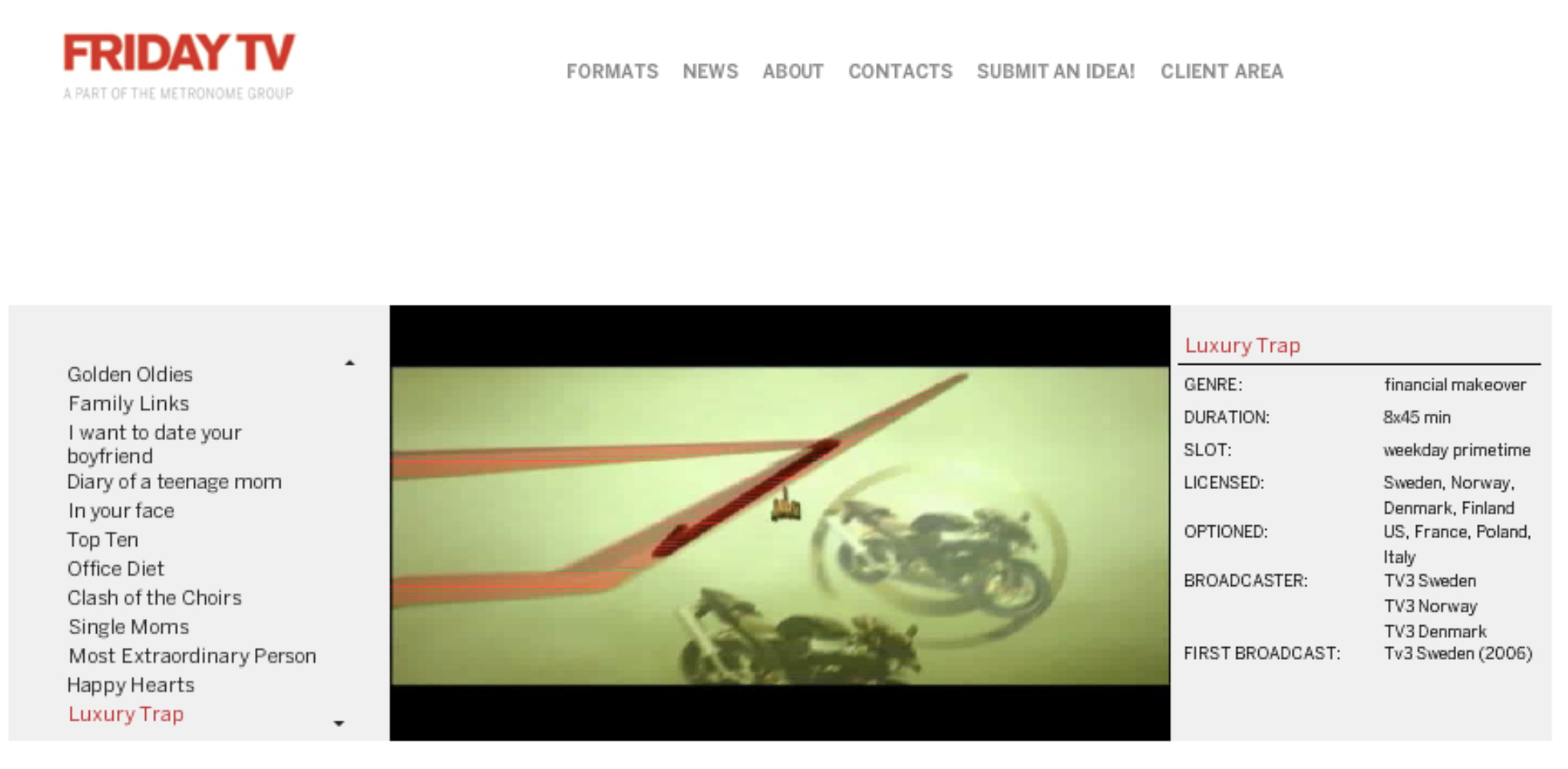 LIKE our Lyxffällan, Luksusfælden Facebook page.
Læs mere:
http://web.archive.org/web/20170115001217/http://www.bump-productions.com/index.php?option=com_content&view=article&id=97&Itemid=105.
BUMP SCRIPTED - FEATURE FILMS
STUPID SPIES™, Inspired by True Events.  
A multinational company has stolen a huge amount of money from a black businessman. Rather than paying him the money, the company hires lawyers who use their personal contacts within the secret service to spy and conduct surveillance on the black businessman, they hope to find dirt on him or catch him in a gaffe which they could later use against him in court so the multinational company would be vindicated and avoid to pay the millions of dollars they owe the black businessman. But they make plenty of stupid mistakes themselves which reveal their scheme, a witness and ex-employee is found dead; the black businessman is able to expose them one by one, from CEOs to top secret spy and corrupt lawyers and judges. The case makes headlines and becomes one of the biggest scandals in the country and within the business world. 
©BUMP 2023. All rights reserved.